Promotional stickers, promotional product labels, product labels, quality printing, affordable prices, and nationwide delivery.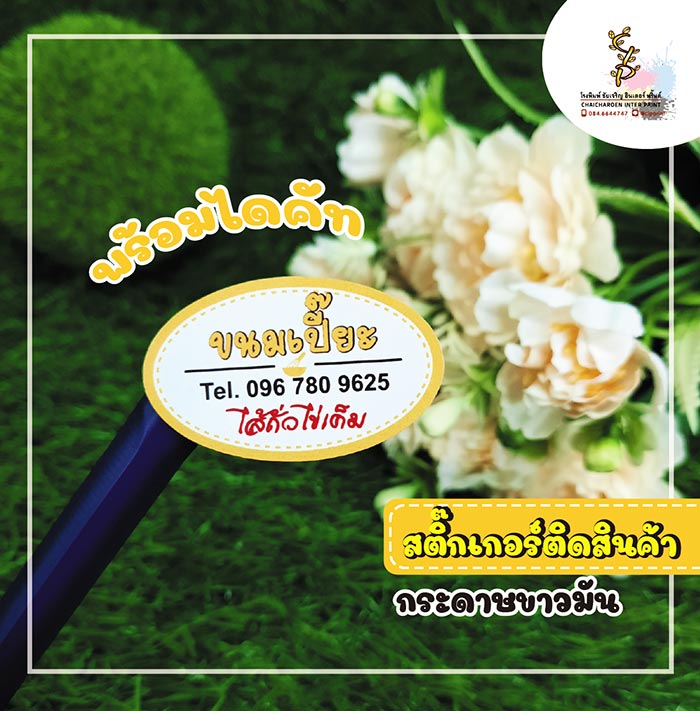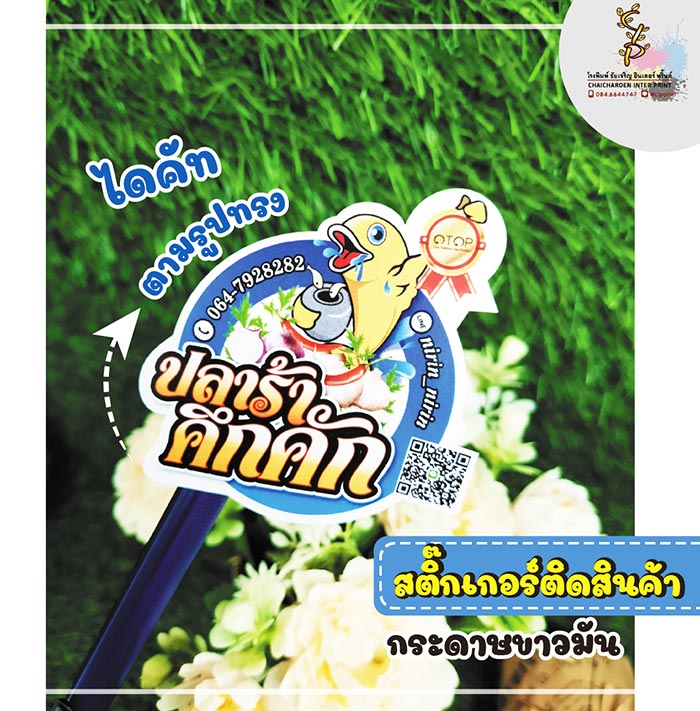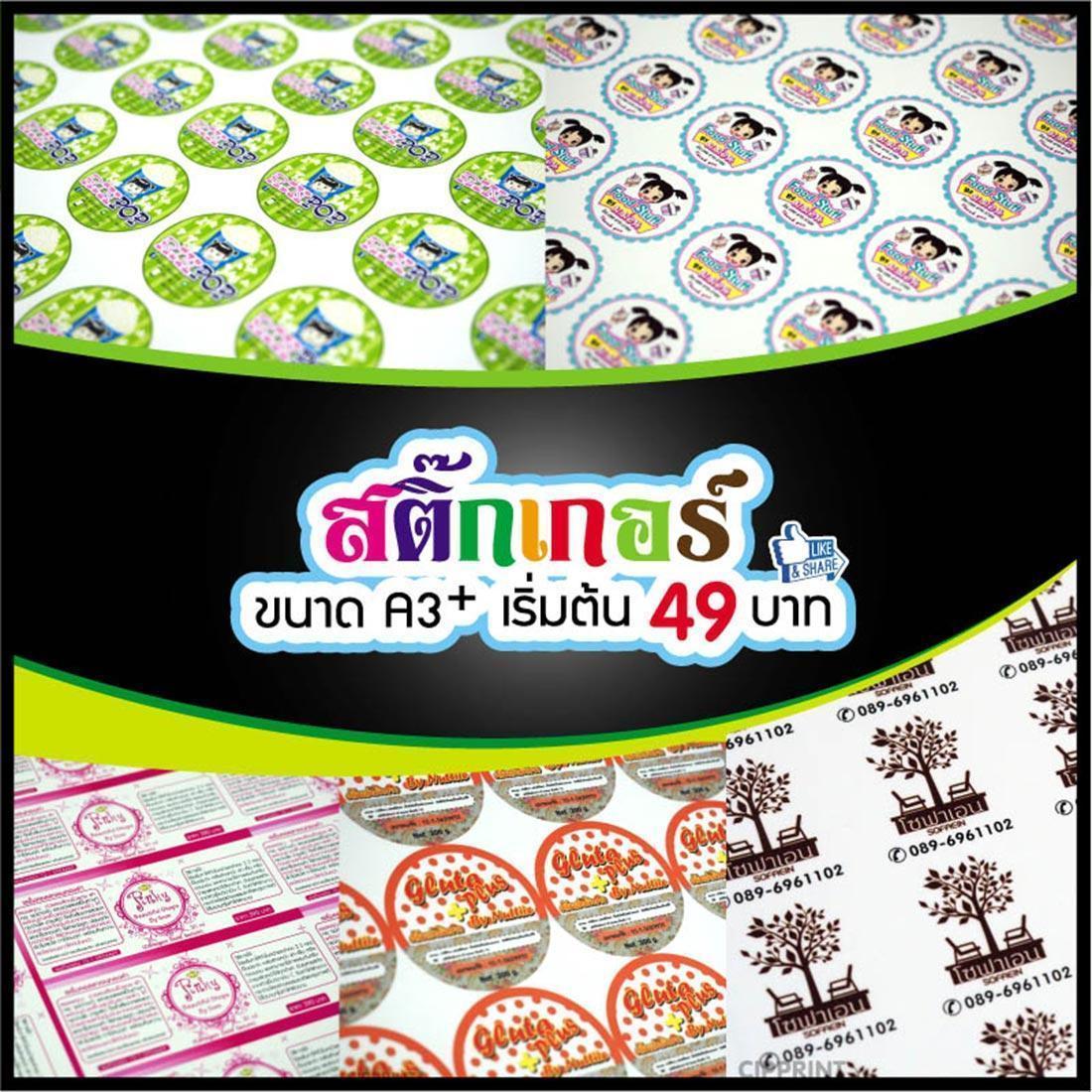 Order to print stickers, product labels
A3+ size, only 49 baht per sheet.
**** The more you order, the cheaper ****
Printed with DIGITAL OFFSET, resolution 2400x2400 dpi, even small letters can be seen. Waterproof ink, sun resistant, long-lasting.
---
1. Paper texture (glossy and matt surface for general work) not focusing on waterproof)
5+ sheets 49 baht
25+ sheets 45 baht
50+ sheets 40 baht
100+ sheets or more, 35 baht
2. PP texture (pearl surface and clear surface, glossy surface, waterproof, difficult to tear, high heat resistance. special sticky glue)
5+ sheets 69 baht
25+ sheets 65 baht
50+ sheets 60 baht
100+ sheets or more, 55 baht
Promotion details, stickers, product labels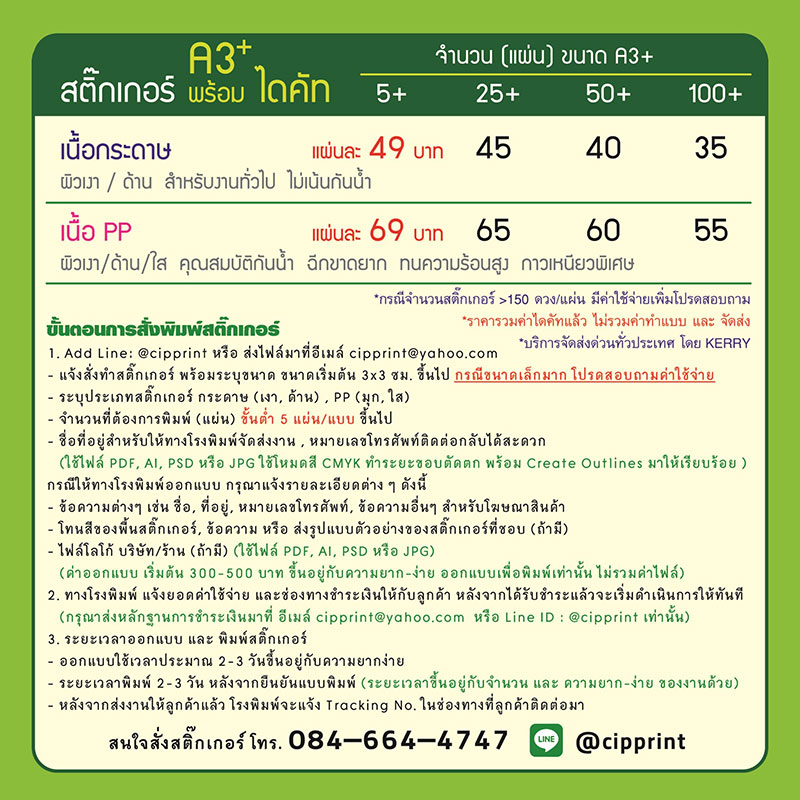 The company reserves the right to change details. Without prior notice, if in doubt, please contact the staff.
note :
- Minimum order print 5 sheets
- Price includes die-cut
- Excluding design and delivery costs
- Express delivery service all over Thailand by Thailand Post and Kerry
Procedure for ordering stickers
Send files to email This email address is being protected from spambots. You need JavaScript enabled to view it.
- Please specify the title of the topic. Order stickers with sizes such as 2 x 2 cm. or 3 x 4 cm., etc.
- Specify the type of sticker paper (glossy, matt), PP (pearl, clear)
- Amount to be printed (sheets) at least 5 sheets
- Name, address for the printing company to deliver the work, a phone number to contact you back conveniently
(Use PDF, AI, PSD, or JPG files, use CMYK color mode to create bleed margins and create outlines.)
In the case of the printing company to design Please provide the following details:
- Messages such as names, addresses, phone numbers, other messages for product advertisements
- The color tone of the sticker background, text or send a sample style of the sticker you like (if any)
- Company/Store logo file (if applicable) (use PDF, AI, PSD, or JPG file)
(Design fee starts from 300-500 baht, depending on the difficulty - easy Design for printing only file not included)
The printing company informs the amount of expenses. and payment channels for customers After receiving the payment, the process will begin immediately.
(Please send proof of payment to email This email address is being protected from spambots. You need JavaScript enabled to view it. or Line ID: @cipprint)
Design period and sticker printing
- Design takes about 2-3 days depending on the difficulty.
- Time to print 2-3 days after confirming the print. (The duration depends on the amount and the difficulty - easy of the job as well)
- After sending the work to the customer The printing house will inform the tracking number to the customer in the evening.