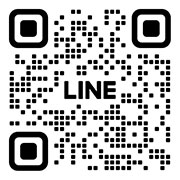 Chaicharoen Inter Print Co., Ltd. (CIP Print) Offset printing, Digital Offset, and Inkjet We accept business card printing, which the printing house sees the importance of customer use. Therefore, we attach importance to the design of business cards to be of quality that represents the customer's identity as much as possible. Business cards are printed with DIGITAL OFFSET, resolution 2400x2400 dpi, sharp in every letter. and cut with a specific business card cutter same size for all leaves
Fast service
with systematic work management so customers don't have to wait long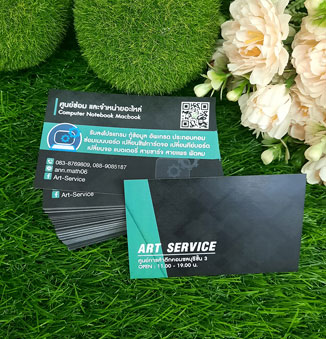 Delivery all over Thailand
We have a delivery service that we produce all over the country to help our customers' business. as smoothly and quickly as possible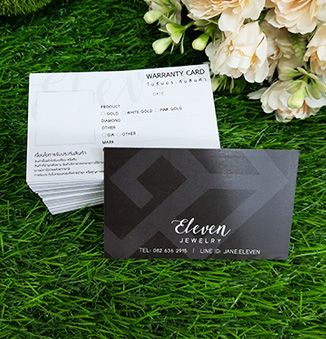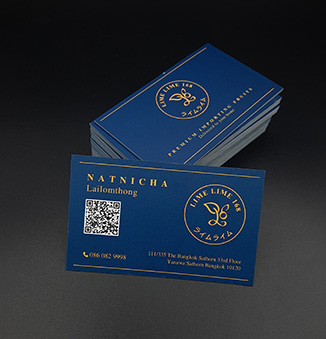 Quality assurance
With our team with more than 20 years of experience, every piece of work High quality and meet the needs of customers as much as possible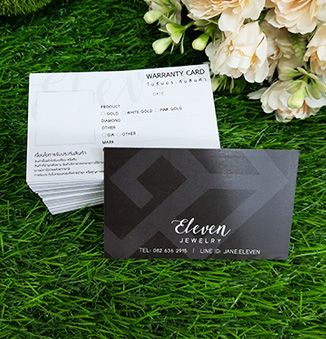 High quality
We design prints or print media beautifully and perfectly meet the needs of our customers' business.
In addition, our printing house also provides advice and consulting services to customers. who want to know the details of various publications which the printing house print invitation card, Get a printed employee handbook. , to print product labels, get printed envelopes, Get printed envelopes, rubber stamps, cut stickers, for business cards printing, for printing tax invoices, get flyer printing, get printed receipt, get printed brochures, receive continuous form printing, Get a printed book, duplicate, print a checkbook. , get printed letterhead, Inkjet vinyl, vinyl labels, and food menu printing. , get a printing service book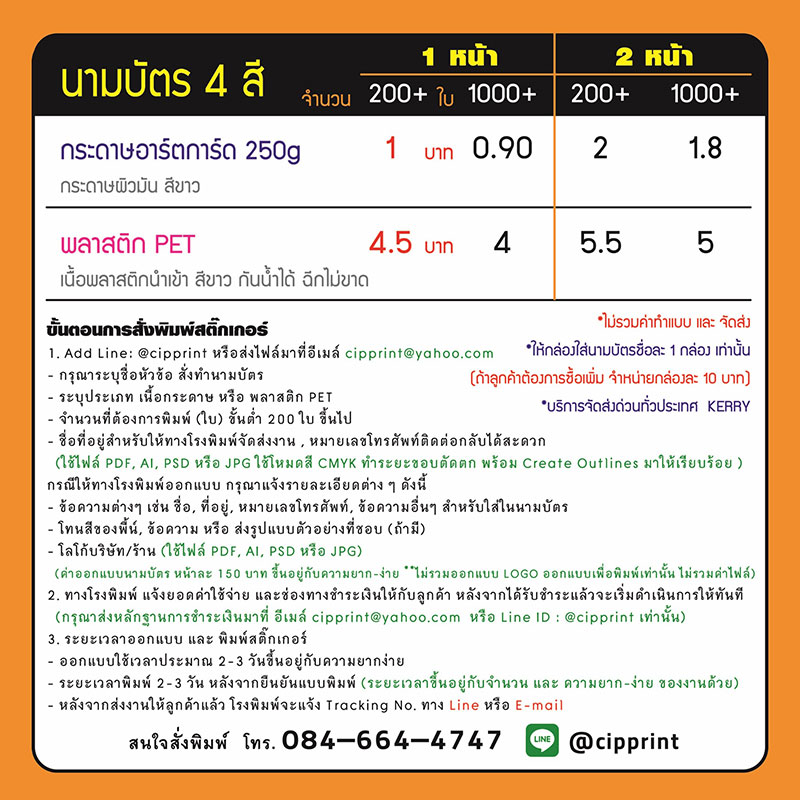 Please read
Minimum order of 200 prints
Not including business card box (10 baht per box)
Price per 1 print
Printed colors will have a discrepancy of 10%-15%.
Special colors cannot be printed, such as shiny gold, shiny silver, reflective colors, etc.
Excluding design and delivery costs.
Express delivery all over Thailand by Thailand Post and KERRY
Order business card printing
Order a minimum of 200 business cards to print at a price of 1 baht each.
- Printed with DIGITAL OFFSET, resolution 2400x2400 dpi, sharp in every letter
- Cut with a dedicated business card cutter same size for all leaves
250g glossy art card paper
print 1 page
200 tickets 1 baht each
1000 tickets 0.9 baht each
print 2 pages
200 tickets, 2 baht each
1000 cards, 1.8 baht each
PET plastic
print 1 page
200 tickets, 4.5 baht each
1000 cards, 4 baht each
print 2 pages
200 tickets, 5.5 baht each
1000 cards, 5 baht each
- Film lamination, clear laminate or matt (2-sided lamination) 1.5 baht each
- Cut 4 corners, rounded corners, 1 baht each
Business cards are used to introduce yourself. for liaison with customers It is also an important representation of the image of the business or organization.
Business cards must be printed on 260 gsm art card paper for strength to prevent creases. Business card printing can be printed on one side or both sides, and there are also special business card printing. For making business cards as well Embossed Business Cards, Gold Stamped Business Cards, Silver Stamped Business Cards, And special color stamping business cards, UV coated business cards, matt coated business cards, glossy business cards, Spot UV coated business cards, etc.